Fun with Science (FWS) Activity
This is a very simple activity which helps to promote interest about learning science among students. It conveys the joy that science education has in store for students.
It is basically conducted at middle school & high school level using very simple gadgets to explain some of the basic principles of physics. Many experiments make use of items available to everyone in daily life. Some experiments can be performed by using otherwise unusable items. For this reason, they are also known as Inexpensive Science Experiments.
Several such programmes (more than about 125) have been conducted so far. While most of them have been conducted in school classrooms, a few of them have been conducted in cooperative housing societies, private homes, open spaces, Ashram Schools, Ganapati festival & a Mall.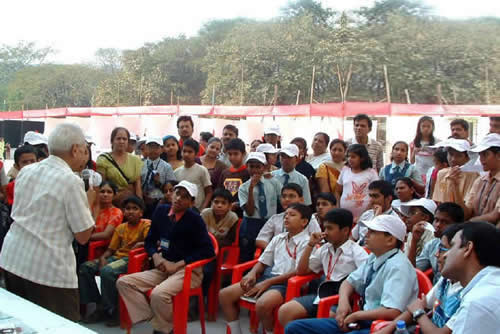 Topics
1) Light 2) Pressure 3) Centre of Gravity 4) Buoyancy 5) Centrifugal Force 6) Magnetism 7) Newton's Laws 8) Miscellaneous. Total = 20 Experiments in a session (Demonstration Time = 2.0 hours). Two dedicated sessions tuned to audience.